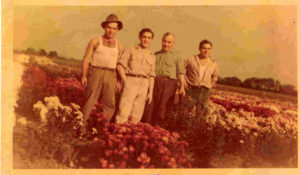 Corso's traces its roots to 1941, when August Corso, Sr. and his family relocated their truck farming business to its current location. In 1949, a retail Flower Shop was added to supply local customers with flowering plants grown from the Corso Greenhouses. The business expanded in 1973 to include a full-service garden center complete with trees and shrubs, gardening products, and accessories. To compliment the garden center, a landscape department was added five years later to offer a complete line of services for both residential and commercial customers.
The Corso wholesale division was launched in the mid-eighties to supply several wholesale accounts. Currently producing over 11 million plants a year to supply major retailers throughout the Midwest, Great Lakes, and New England, Corso's Horticulture has grown to become one of the largest and most influential perennial growers in the United States.
The Third and fourth generations of the Corso family currently manage business operations along with a talented and committed staff. The company presently employs several hundred people throughout the year.
The Story of Corso's
The Story of Corso's from New Departure Films on Vimeo.